Hello Everyone,
Today is something a little different and quite a big deal for me and my blog. I was recently approached by a childhood friend from secondary school, Omamerhi. Who also runs her own blog. She invited me for an interview to be posted on her blog about my blog and how it all started. When she approached me I was actually so surprised, I was very critical of myself and thought "wow I didn't think my blog was even at that stage yet". I have been blogging for about 4 years now and it hasn't been an easy journey, constant doubts, giving up, feeling ashamed of my inconsistency at times. I'm still so critical about everything, there's so much more I want to do and the quality of content I want to produce. I would like to thank you all in advance for your continuous support of my blog and everything you have contributed to include your comments and feedback (It keeps me motivated and I appreciate it so much!).
I thought this would be a lovely opportunity to let you know about how this journey started and where I feel like It will take me in the coming years…
In honour of my 4th year of blogging I will be inserting the interview below for you to read:
The Interview
Business and Management graduate and founder of www.bosefayodeka.com
1. Why www.bosefayodeka.com? Tell us a little bit about this venture. Was there a specific moment that sparked its creation or was it always buried within you?
Great question. I thought I would introduce myself first, my name is Bose Fayodeka and I currently run a food, fashion and lifestyle blog. I started my blog in my first year of university. Never in my life did I think I'd have a blog or anything of that form. I had two friends, Micah and Lizzie, who shared the same interest in blogging and making YouTube videos. I always knew I liked expressing myself, from a very young age so I thought I'd become a journalist or author when I was really young lol (maybe I will eventually write my own book). Anyway, we all kind of clicked as we had similar interests. Before we knew it, we were doing the first shoot for our blogs in the local field at our university and then I finally launched my blog.
Fun fact: my first ever blog was called www.stylebybose.co.uk which was hosted on Blogger.
2. I can imagine, there were probably times when it was tough juggling your studies and your blog. How did you keep the vision alive?
Yessss! All the time, even at the moment, it's hard juggling my blog with my full-time job. But I'm so grateful as everything I've prayed for is slowly manifesting. I would say that what keeps the vision alive for me, is continuously making new content and seeing all the feedback from it. You just have to make time, if it's your passion you will make sacrifices for it, even if it's hard.
I'm so grateful as everything I've prayed for is slowly manifesting.
3. What's next for www.bosefayodeka.com?
Hmm, I have plans to eventually work with restaurants and hotels and incorporate travel posts and diaries into my blog. I just really want to try new cultures, new foods and produce quality content. I would love to collaborate with as many brands as possible that I like and give honest reviews.
4. What THREE tips would you give to students who are still pondering whether to implement that idea or start that new business?
1. I would say just start. I've realised with most things, you can continue telling yourself you're going to start them but you never actually do (sometimes out of fear). My first blog is a prime example, I started it knowing that my layout and template wouldn't be the best, but then I found a better alternative that worked for me. This brings me to the next tip.
2. 'Allow the process' and 'Believe in yourself'. I know you may hear this a lot but it's so true. You have to be your biggest cheerleader at times because not everyone is going to be around you to make it happen for you, neither are they responsible for doing so.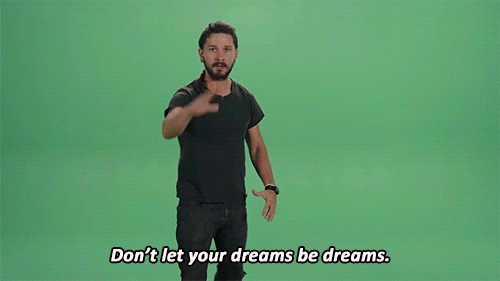 3. The last tip is, don't be afraid to ask for help if you need it. Doing something for the first time can be really hard so make sure you educate yourself by watching videos, reading blogs, forums and asking people who you know that have already done it. Don't be shy or ashamed, it shows you want to pursue your dreams and network with other like minded people.
NUGGET OF WISDOM: Be your biggest cheerleader!
5. Where do you see yourself in the next FIVE years?
Oh wow, this question took me by surprise haha because by then I will be 26 years old, that sounds so old, I still feel very young. However, I would imagine myself well established and experienced in my career. Probably have had a few promotions or even working for myself – if I become that good! (By God's Grace, I will!). I would like my blog to have grown and established to better levels: new layout, greater content and collaborating with brands and even other bloggers who share the same interests. Another important one is for me to give back to those who are less fortunate, or who simply just want to be better their career. I try to incorporate this into my everyday life by responding to people who need help or ask for it.
Omamerhi's Blog: http://liveinthemoment.co/
Omamerhi's Instagram: https://www.instagram.com/omams_/
Outfit Details
Flare Sleeved Top – Primark
Paperbag Flare Trousers – Missy Empire
Ankle Boots – River Island (Alternatively I'd pair with heels instead, on a warmer day)
Velvet Jacket – Debenhams (Julien Macdonald)
Thank you for reading & I hope you enjoyed this post, I look forward to the next one.